Roboflow's end-to-end computer vision platform is transforming the way businesses use computer vision and now you can get Roboflow through the AWS Marketplace, making it easier to purchase for AWS customers.
With 100,000+ developers and over half the fortune 100 using Roboflow, many of our users rely on Amazon Web Services (AWS) as their cloud platform of choice. We heard from customers that purchasing through the AWS marketplace would make life easier and as of today that is now an option.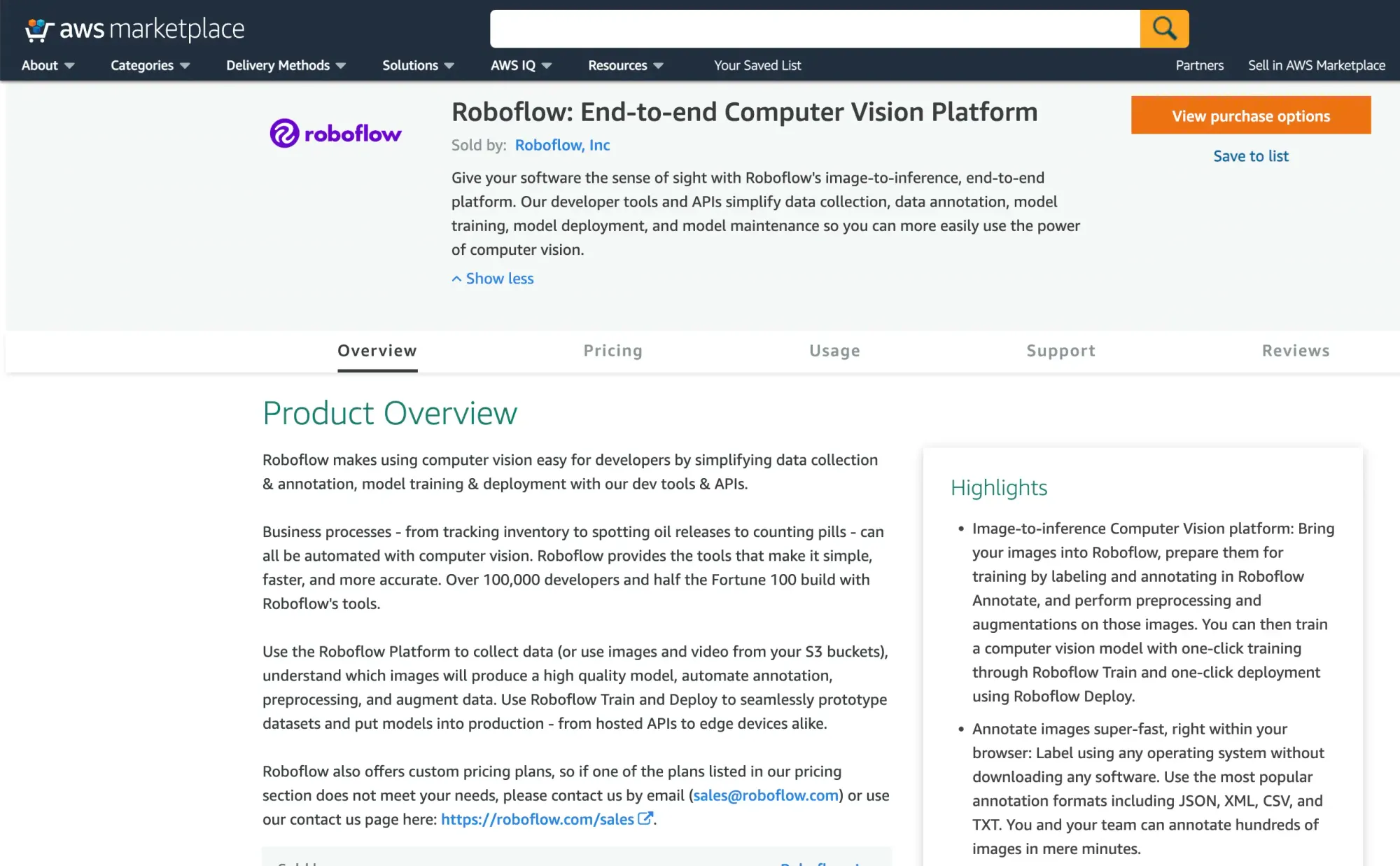 Purchasing Options for Roboflow in the AWS Marketplace
The Roboflow AWS Marketplace listing gives customers options to choose from:
Roboflow Growth: Platform license with 25k source images, 100k generated images and 1000 monthly API calls.
Custom Orders: which can include enterprise level features, enterprise support and services, added usage limits and deployment to target hardware.
Contact us to discuss custom solutions and offers through https://roboflow.com/sales
Why AWS Marketplace?
Customers have provided feedback that they prefer making purchases through the AWS Marketplace for consolidated billing and making the most of their AWS Enterprise agreements already in place. The standardized process through the AWS Marketplace increases buying speed and provides governance while procuring software.
The products bought through the Marketplace are fully integrated with AWS. This makes managing products easier in terms of renewing or expanding and can all be managed in your AWS account.
By virtue of this integration, when you purchase Roboflow in the Marketplace, it is also visible through the AWS Cost Explorer, which simplifies the billing and cost management process for customers using AWS services alongside products bought in the Marketplace, which is often the case.
Marketplace spend counts toward annual commitments in AWS Enterprise Development Programs (EDP), also now known as Private Pricing Term Sheets (PPTS) so customers can use the marketplace to simultaneously fulfill service and EDP/PPTS requirements and commitments.
AWS and Roboflow Working Together
Roboflow is on a mission to democratize computer vision and AWS powers Roboflow's model pipeline, which allows us to put computer vision into the hands of all developers. It is only fitting to join forces and make Roboflow available to be purchased in the easiest way possible for all AWS customers, so we can continue to knock down barriers in the world of machine learning.
Check out the AWS Marketplace listing or contact the Roboflow sales team for information on purchasing a custom order.