This post is part of Dataset Day in Roboflow Launch Week 2023, the day during which we have announced many new additions to our data management and annotation solutions. To see all of the announcements from launch week, check out the Roboflow Launch Week page.
Every day, we see teams using the Roboflow platform to collaborate on data annotations. We have a range of features designed to make it easier than ever for your team to participate in the data management process, including the ability to provide annotation instructions and assign images in batches to annotators.
Today, we are launching the ability for workspace members to comment on images hosted in Roboflow. With this feature, we aim to boost communication between team members on a project and, in the process, ensure your annotations are the best they can be.
Using our image commenting feature, annotators can leave comments on their images when they have questions and other members of your team can provide feedback on annotations. This is particularly useful as you onboard annotators. Facilitating a collaborative annotation process ensures everyone is on the same page, leading to less confusion and higher quality annotations.
In this guide, we're going to show how to comment on images on the Roboflow platform. Without further ado, let's get started!
Create a Comment
Navigate to an image in the Roboflow Annotate tool. To leave a comment, click the Comment icon in the task tray on the left side of the page. Then, click anywhere on the image where you want to leave a comment.
This will open up a box in which you can write a comment. You can tag team members by typing he at sign ("@") and the name of the person who you want to tag. When you tag a team member in a comment, they will receive a notification that you have left a comment.
View and Reply to Comments on an Image
If there are comments already on an image, a small icon will appear where the comment is left with the first initial of the user's name. Hover over the icon with your mouse to see the full comment. To respond, click on the comment. A box will appear in which you can respond, resolve, or delete the comment: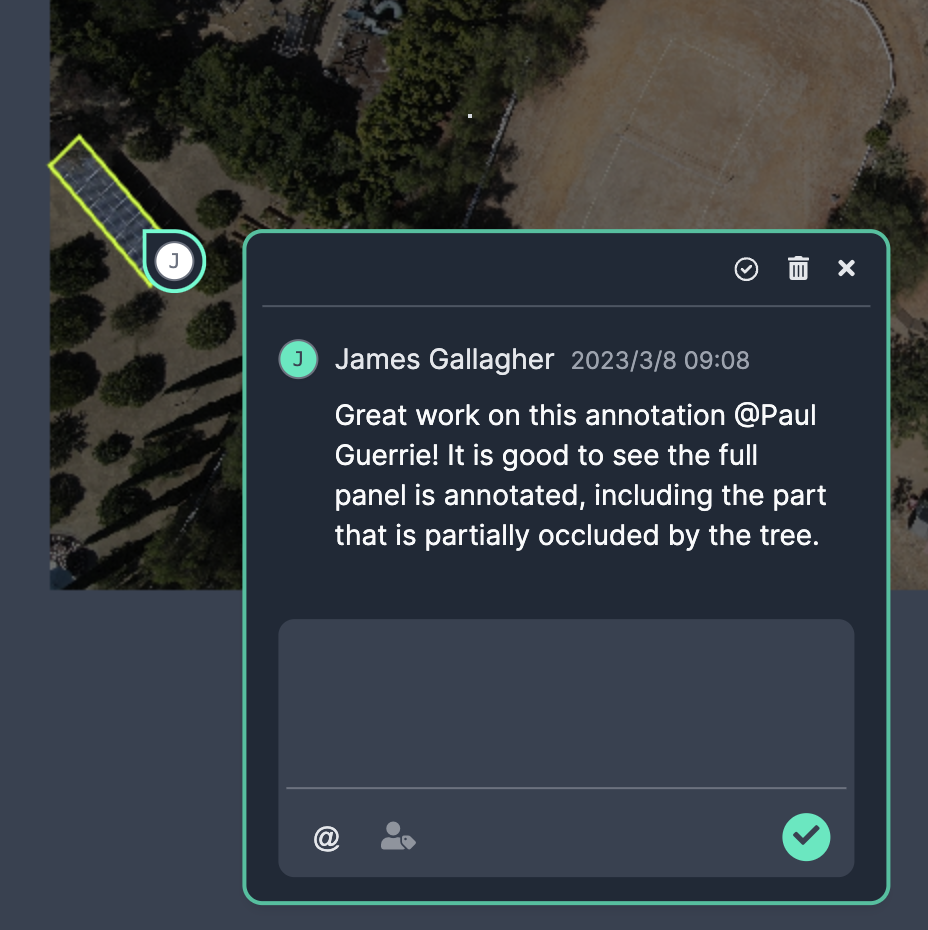 You can also see all of the comments associated with an image by clicking "Comments" on the left sidebar of the annotation tool.
Conclusion
Using the new image commenting features in Roboflow, you can enable more collaboration between members of your team during the annotation process. Project managers can leave more precise feedback on annotated images during the review stage, annotators can ask for questions, and everyone can provide feedback on specific parts of an image.
Being able to leave granular feedback on images facilitates team members learning more about how to annotate a dataset, thereby helping to improve the overall quality of annotations. If you have any questions about how to use this feature, let us know on the Roboflow discussion forums.