For almost a year, Roboflow (our computer vision dataset management tool) has lived at roboflow.ai. It's served us well but we have always lusted after the dot com. No longer! We managed to acquire roboflow.com from the giant German company that owned it since 2001.
The history
When we chose the name, we did diligence to ensure that it was available and found that the .com was owned by a German fluid control system company called Bürkert.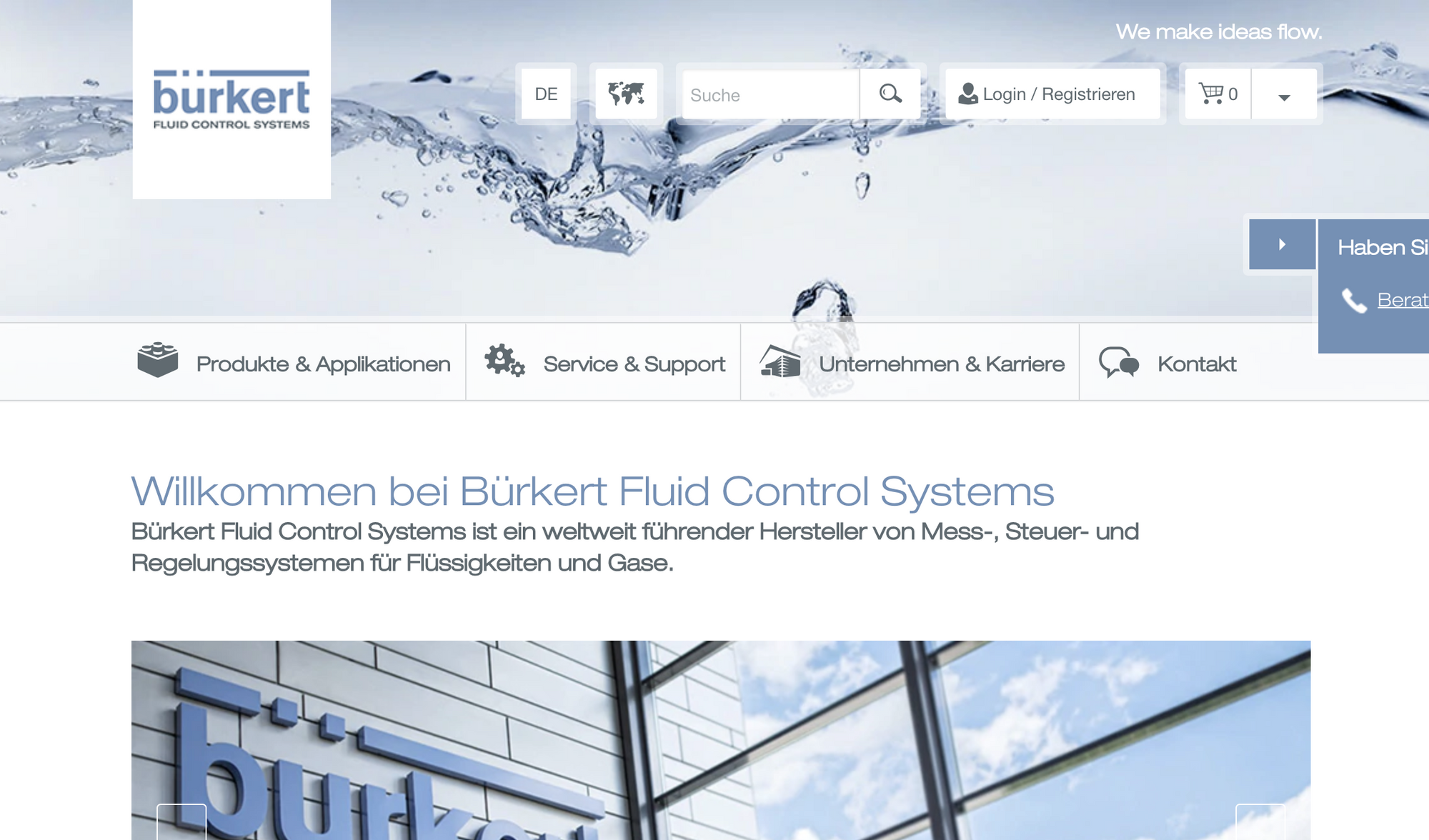 After some digging, we discovered that they had acquired a company called Robolux in 2005 that previously had a product called Roboflow. But, after the acquisition, it was discontinued and the trademark expired in 2009.

That gave me some hope that we could someday acquire the domain, but we wanted to wait until we were on more solid footing before reaching out. We assessed the probability of a giant company selling us one of their domains as "slim" (and the chances we could afford the asking price even if they were willing to part with it as even smaller).
Reaching Out
Things have been growing fast at Roboflow over the past few months so, earlier this summer, we decided it wouldn't hurt to start a conversation to buy the domain. We figured doing this before announcing any funding would be a good strategy so they wouldn't Google us and jack up the price.
I took a stab in the dark and messaged one of the only people at the company I could find on LinkedIn with open messaging enabled, a salesperson in California. He didn't know what to do so he connected me with someone in marketing.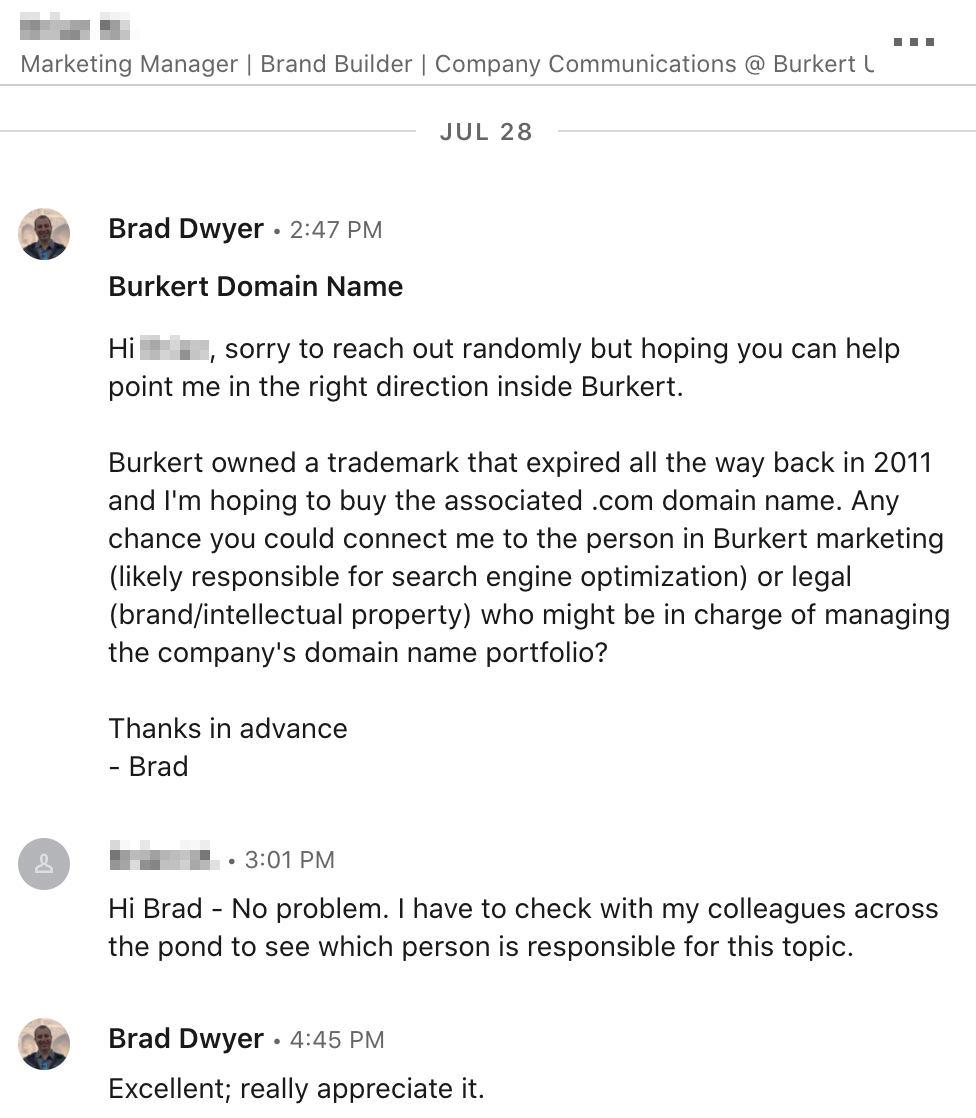 This guy was super helpful. A few days later, he gave me the email of someone in IT at the headquarters in Germany that I should talk to.
That person in IT gave me the email of the person in eCommerce tasked with managing the domain names of the company. I sent an up-front email with the history I had researched and crossed my fingers that she would be willing to help.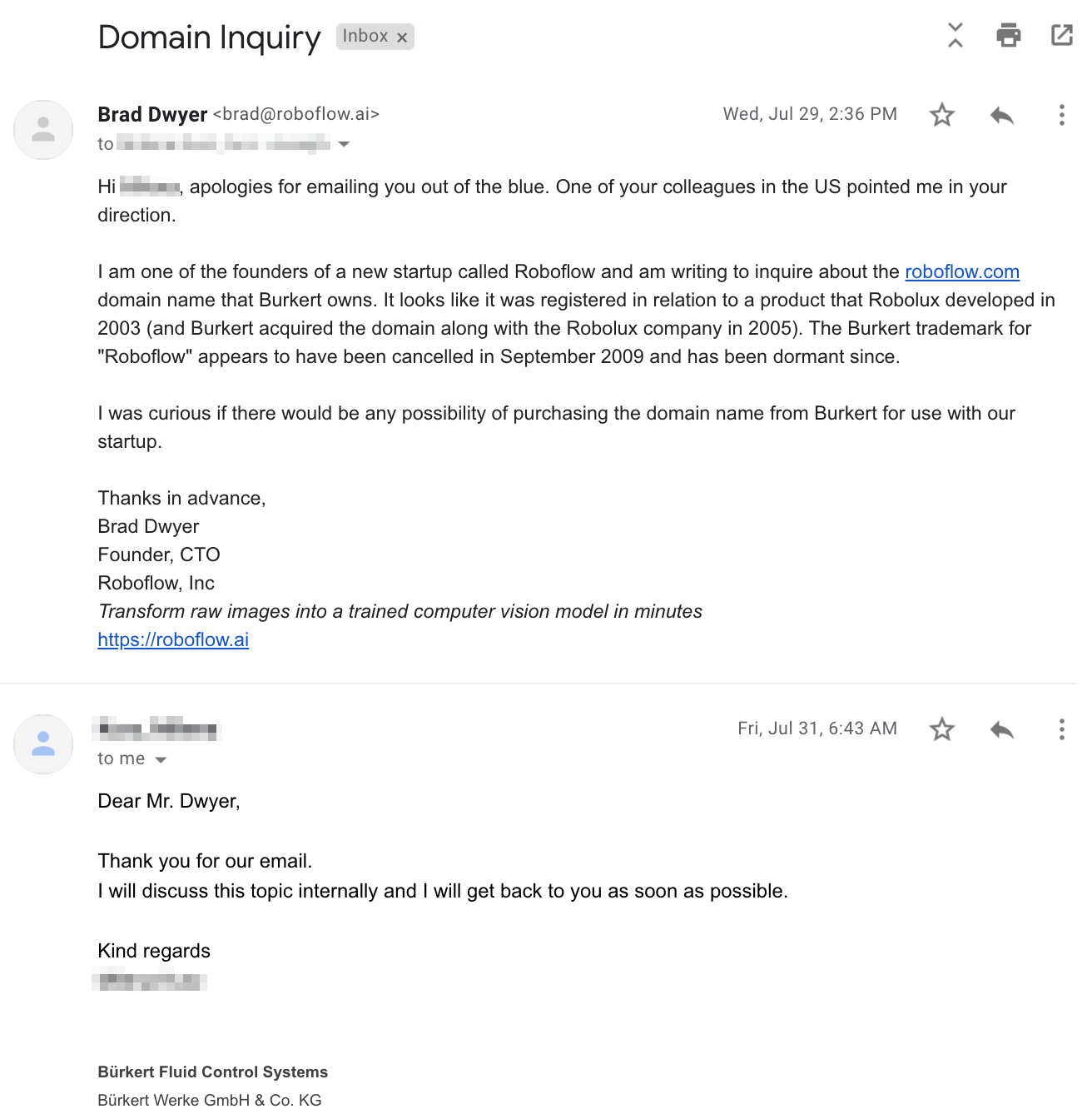 A week went by and I heard nothing back. I was beginning to lose hope at this point. But I followed up to see if the internal discussions had happened at all and, if so, whether they had yielded any decision.
The next morning, I awoke to a reply in my inbox from the contact at Burkert. My heart skipped a beat and all of the sudden thoughts of million dollar price tags entered my head. There was no way, I thought, that we'd be able to afford the domain even if they were willing to sell.
I clicked the email and...
The offer
To my surprise, they were willing to sell at a reasonable price!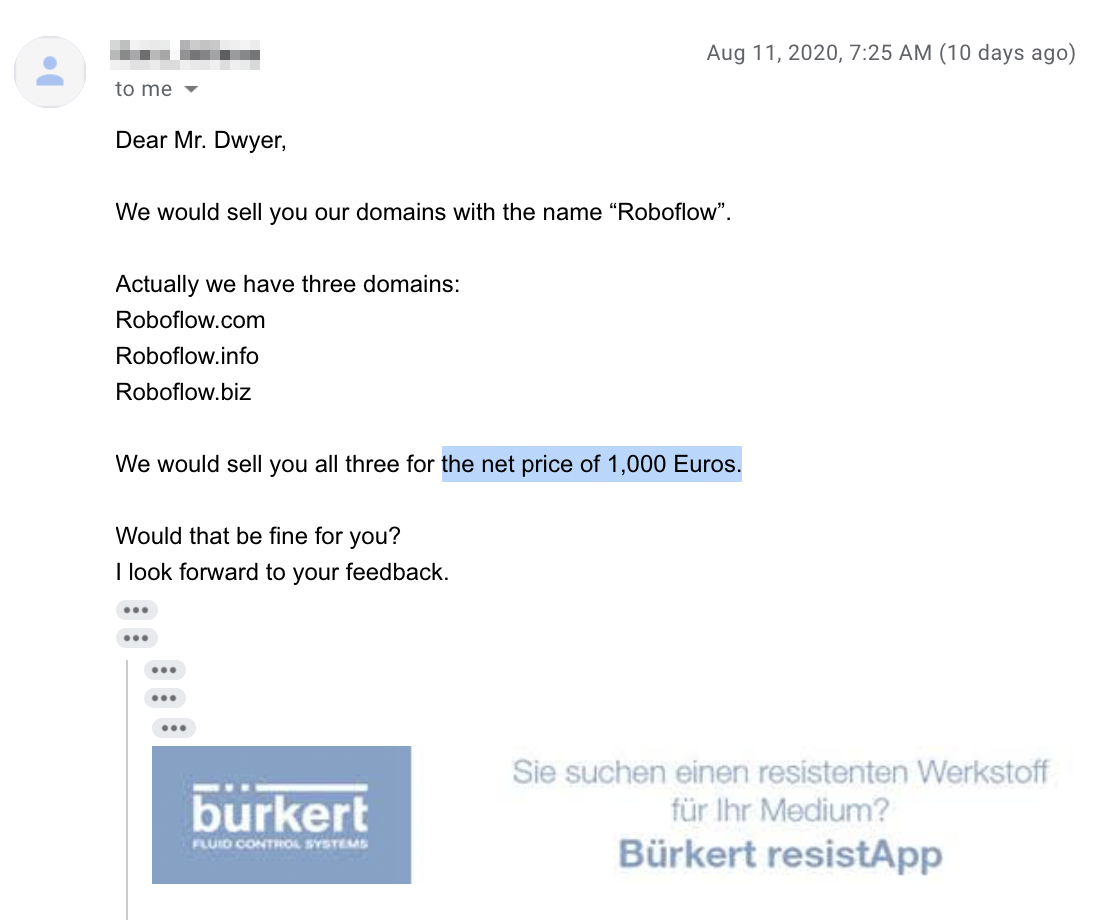 What I wanted to reply was "HECK YES" but I didn't want to blow the deal.
I waited a half hour or so and sent a more tempered reply.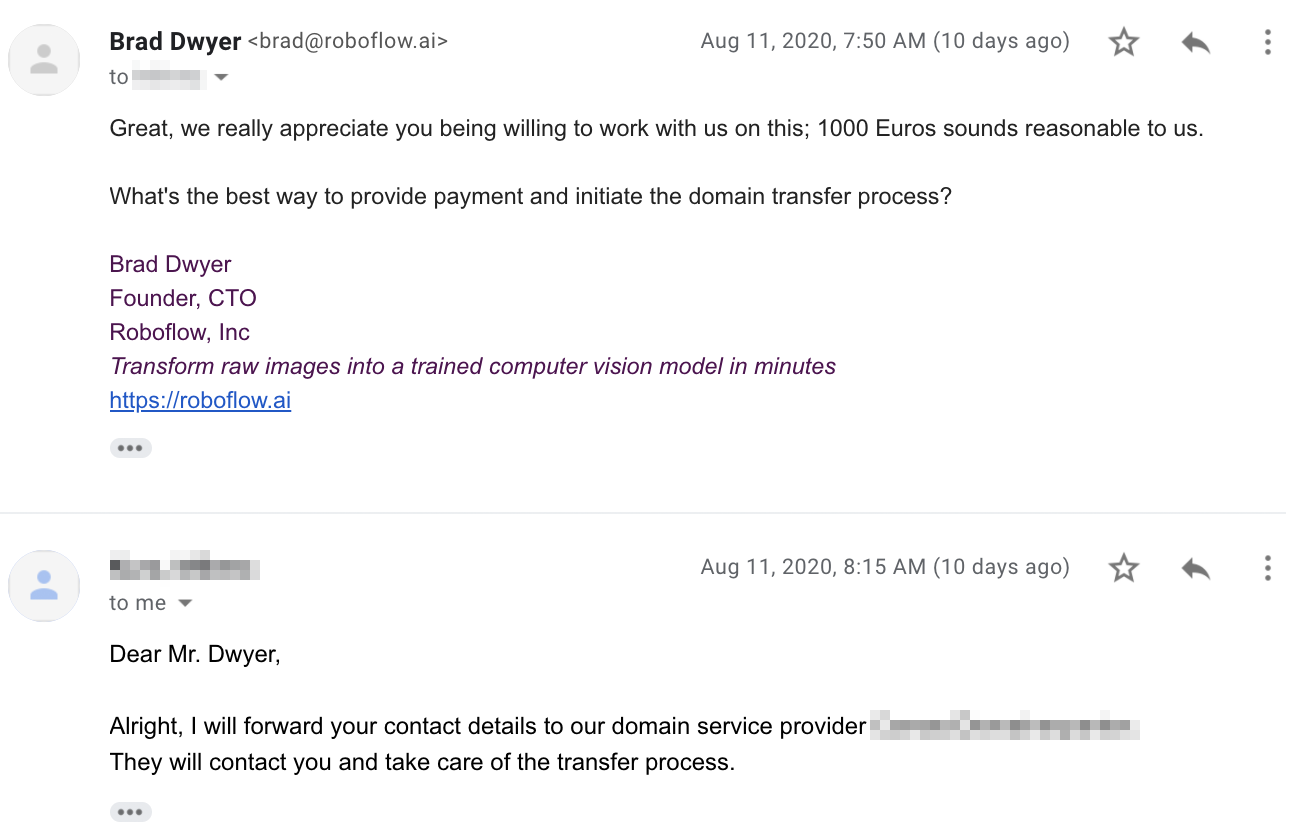 The transfer
After that, the domain provider sent me their bank info and I blindly wired the money overseas. After almost another week of waiting I received confirmation that the payment had come through and got the transfer codes.
It still felt a little bit surreal at this point. But when the domain showed up in our account and I was able to transfer the name servers and point the DNS at our homepage it all sunk in. We leveled up.
It's time to start the next chapter in our story as roboflow.com as we continue our quest of democratizing computer vision so any software developer can use it.