Roboflow's mission is to democratize access to computer vision. We aim to actively help accelerate the world toward a future where everyone can build with computer vision. As a part of this mission, we invest in providing resources to the community in the form of free access to the Roboflow platform, open source datasets, fine-tuned models, and open source tools.
Today we are excited to announce the Roboflow user community has surpassed 250,000 users globally and our growing community of users is rapidly adding more publicly available data than ever before.
We believe it is important to make datasets and models available to the community because of the widening AI resource gap between the largest companies in the world and everyone else. Putting datasets and models into the hands of everyone is important to the evolution of AI and ensuring AI isn't only available to the world's largest incumbent organizations.
In this post, we will share more about the breadth of resources you can rely on to build computer vision applications with Roboflow.
Roboflow Universe Expands Beyond 200,000 Labeled Datasets
Roboflow Universe is the largest online resource for open source computer vision datasets and fine-tuned models. On Universe, you will find over 150 million images across 200k datasets, free for anyone to use.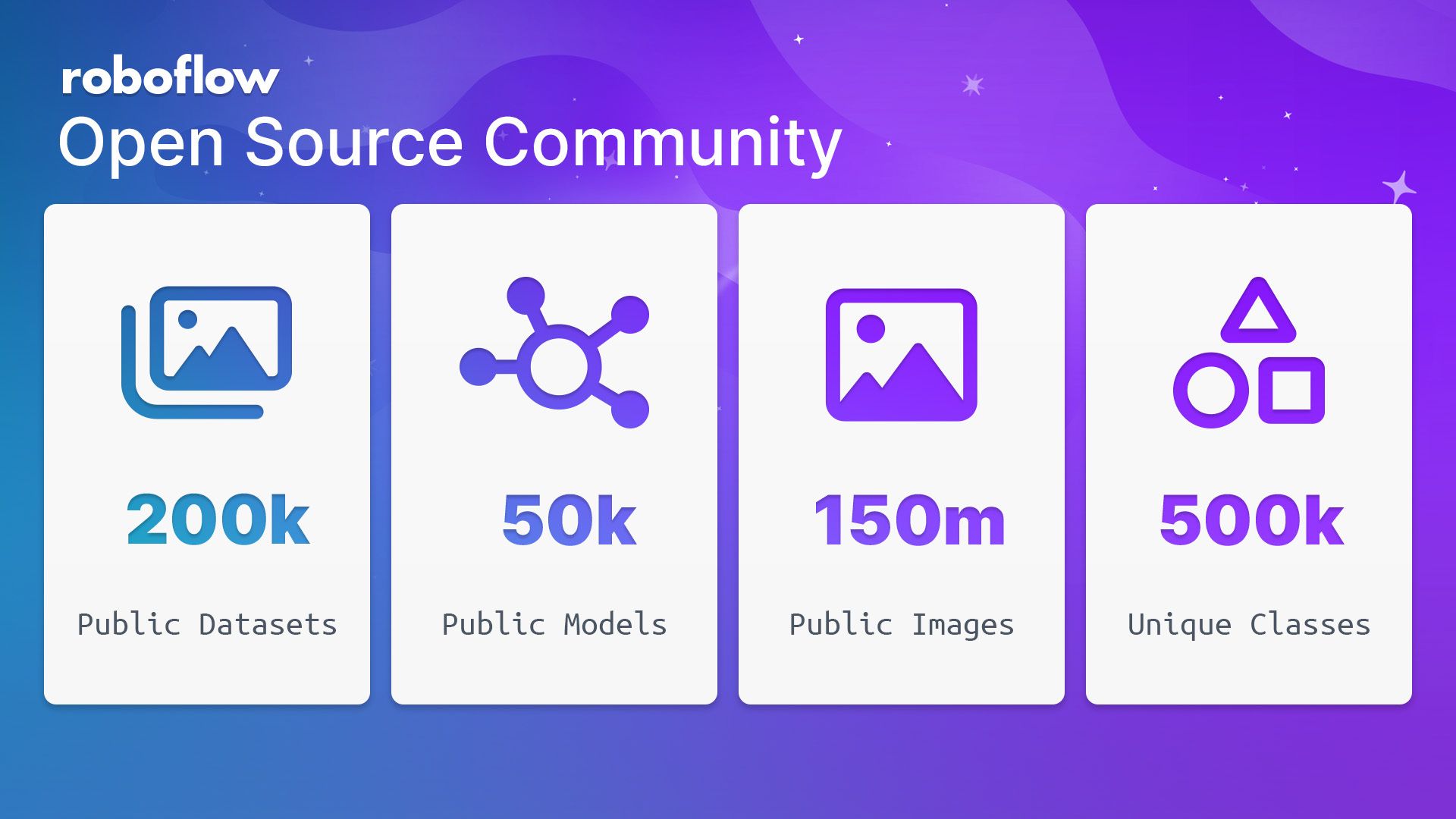 Having open datasets, especially when that data is already labeled, helps reduce the time it takes to go from idea to product with a working computer vision model. In Roboflow Universe, you'll find 500k+ unique classes of objects other community members have labeled. You're able to use those images to create your own custom datasets to meet your needs.
Using our natural language dataset search feature, you can find narrow and domain specific data that resembles your environment to kickstart getting a model into production. Along with domain specific data, you're able to search for specific task types (object detection, classification, instance segmentation, semantic segmentation, etc) to meet the needs of different use cases and model formats.
50,000 Fine-Tuned Models Available for Deployment
In June of 2022, we made 7,000 fine-tuned models publicly available for use. Ten months later, that number has increased to over 50,000.
Many of the available datasets have models associated with them for you to explore, test, improve, and deploy into production immediately. Transparently connecting datasets to models ensures progress can be shared broadly and other members of the community can build on top of each other's work.
Many users opt to utilize Roboflow Train, our hosted training solution, to easily manage the training of models and to ensure compatibility with Roboflow Deploy's out of the box deployment options.
Along with Roboflow Train models, we now support users bringing models into Roboflow (YOLOv5, YOLOv7, YOLOv8, etc) which has turned Roboflow Universe into the largest collection of specific fine-tuned models. For example, after launching support for uploading and deploying YOLOv8 models, we've already reached 800+ pre-trained YOLOv8 models open and available for the community to use.
Roboflow can be used as a repository for your team to explore models, train models, test different model sizes, examine the impact of different datasets, and then quickly see the results of those variations in your production environment.
Online Community Resources Scale Knowledge Sharing
Along with Roboflow platform access, open source datasets, and fine-tuned models, we are also committed to sharing open source tools and resources. Our open source notebooks repo contains 30+ notebooks for users to train a diverse set of models in any environment. Most notebooks contain a video, and written guides to help you learn how to train different models.
We host the videos on the Roboflow Youtube channel, where you can find step-by-step tutorials for training models, project tutorials, and best practices, which recently crossed 660k views.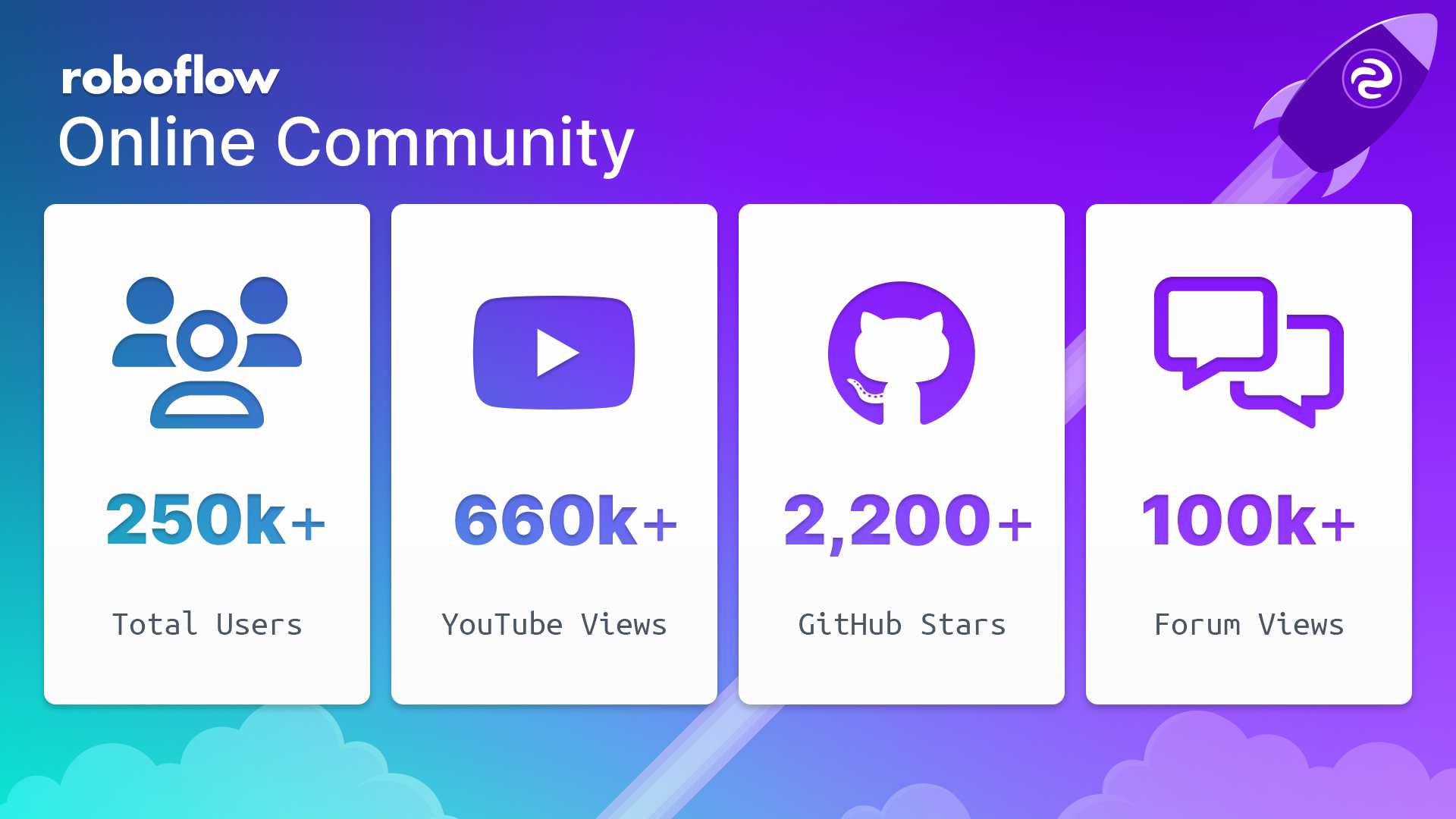 Through the Roboflow User Forum, we've helped over 100k visitors find answers to difficult computer vision problems and those answers to common questions have helped us power new resources for the community. We recently released the following tools to help you get to production faster:
All of this knowledge sharing is meant to help share the hard work of the community and help accelerate the speed anyone can go from an idea to a production application.
Supporting Open Source Broadly
We are excited to announce our financial support for open source projects we benefit from and help power the experience we deliver to users every day.
As of today, we are supporting the following projects: OpenCV, YOLOv5, YOLOv8, PyPi, Albumentations, PostgREST, NumPy, Jupyter, Jest, markdown-it, and sweetalert2.
Conclusion
We are excited to play a role in this growing and important community helping advance computer vision. Our goal is to continue investing in resources for the community in the form of free Roboflow platform access, open source datasets, fine-tuned models, and open source tools.
These ideas are powered by your feedback, so please continue letting us know how we can support your next computer vision project by sharing in any community you are active in!