Microsoft Azure customers worldwide can now gain access to Roboflow to take advantage of the end-to-end computer vision platform to give their software the sense of sight.
We're pleased to share that Roboflow is now available in the Microsoft Azure Marketplace, an online store providing applications and services for use on Azure. Roboflow customers that use Roboflow and Azure together have an even easier way to incorporate the two infrastructure tools.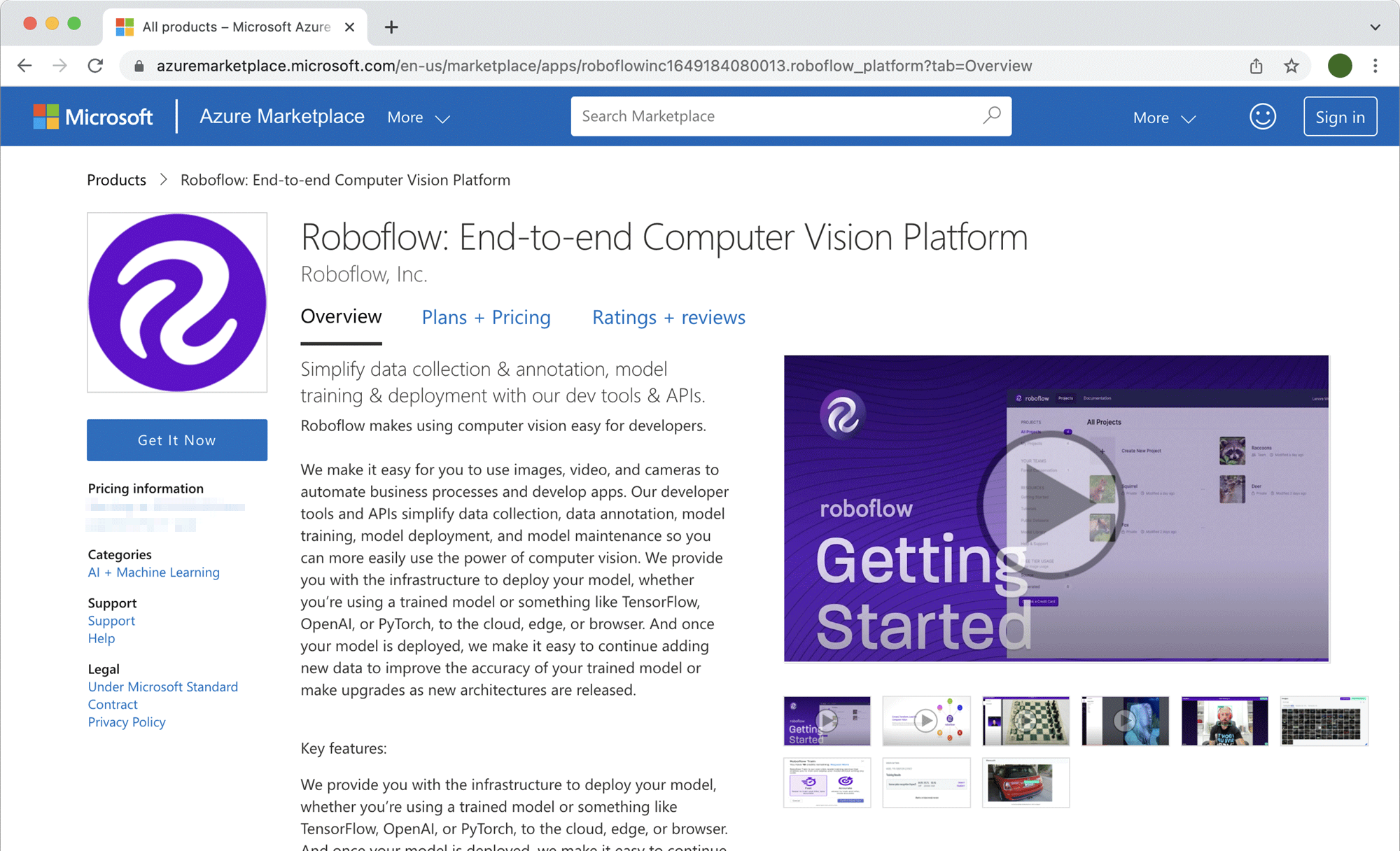 The Azure Marketplace is an online market for buying and selling cloud solutions certified to run on Azure. The Azure Marketplace helps connect companies seeking innovative, cloud-based solutions with partners who have developed solutions that are ready to use.
"Roboflow makes using computer vision easy for developers. We do this by simplifying data collection, data annotation, model training, and model deployment with APIs and developer tools."
Roboflow makes using computer vision easy for developers. Through providing tools for dataset collection, management, annotation, model training, model deployment, and active learning, Roboflow accelerates the rate at which organizations can develop and deploy state-of-the-art machine learning applications into production.
By being welcomed to the Azure marketplace, Microsoft is validating what existing customers using Azure and Roboflow together have found with accelerated machine learning workflows. The availability of Roboflow in the Microsoft Azure Marketplace enables us to offer the product to a wider range of organizations.
Jake Zborowski, General Manager, Microsoft Azure Platform at Microsoft Corp. said, "We're pleased to welcome Roboflow to the Microsoft Azure Marketplace, which gives our partners great exposure to cloud customers around the globe. Azure Marketplace offers world-class quality experiences from global trusted partners with solutions tested to work seamlessly with Azure."
For example, existing customers are leveraging petabytes of stored images and video on Azure Blob storage with Roboflow's image processing tools to create computer vision applications that monitor security footage, synthesize drone imagery, and synthesize health data.
Others are using Azure's device management capabilities with Roboflow's dataset management tooling to rapidly deploy and improve production applications. Azure customers have the ability to annotate, pre-process, and augment their image data with Roboflow, then export their processed dataset in a number of different formats such as COCO, Pascal VOC and YOLO to name a few. They can then use this dataset in their current computer vision pipelines. Existing users of Microsoft Azure Custom Vision can also take advantage of Roboflow's data preparation pipeline by exporting their data directly to Microsoft Azure Custom Vision for training. Follow our guided tutorial to see how to use Microsoft Azure Custom Vision with Roboflow.
To get started with Roboflow on the Azure marketplace, go to the Roboflow listing in the Azure Marketplace, review our plans and pricing, click "Get it now", and subscribe today.
About Roboflow
Roboflow is a technology company that enables developers to use computer vision without machine learning expertise. Over 100,000 users from businesses of every size — from startups to public companies — use the company's end-to-end platform for image and video collection, organization, annotation, preprocessing, model training, and deployment. Roboflow provides the tools for companies to improve their datasets and build more accurate computer vision models faster so their teams can focus on their domain problems without reinventing the wheel on vision infrastructure. Over the long term, Roboflow is building the operating system for visual computing.
Roboflow also launched Roboflow Universe in 2021, a community space that allows anyone to share their computer vision datasets and pre-trained models with the world. To date, over 70,000 projects have been shared on Universe.
For more information, visit https://roboflow.com/.
To find out more about how you can purchase Roboflow on the Azure marketplace, contact our sales team at sales@roboflow.com.