SnapCalorie allows their users to make informed, healthy choices when it comes to their diet. The SnapCalorie mobile application enables users to take a picture of any meal and their algorithm will show the calories, fat, carbs, and protein.
The founding team consists of alumni of Google AI, MathWorks, and Google [X]. Their team co-founded Google Lens and Google Cloud Vision API, and they co-authored a peer reviewed paper demonstrating the first algorithm to outperform humans when visually estimating calories and nutrition in a meal.
Through their use of Roboflow, SnapCalorie was able to increase their speed for model prototyping by 1200% and decrease the labeling time per image by 80%.
SnapCalorie uses artificial intelligence to make educated guesses based on what it sees, like a human would, and provide that data back to their users to make informed decisions on their diet. Roboflow enables SnapCalorie to move fast and provide this rich experience to their user base, by rapidly collecting new training data and iterating on model development. This helps SnapCalorie save hours of engineering efforts and cost.
Choosing the Best Tools to Build a Computer Vision Business
SnapCalorie's simple end user experience is made possible with computer vision. This team of computer vision experts realized they needed best-in-class tools to build their business and decided buying, rather than building, was the best path forward. As their user base expands, the team increases the size of their dataset to help improve the computer vision and machine learning models that delivering results for users.
The faster the SnapCalorie team can get the newly acquired data back into their models for training, the more quickly they can improve the accuracy of their application.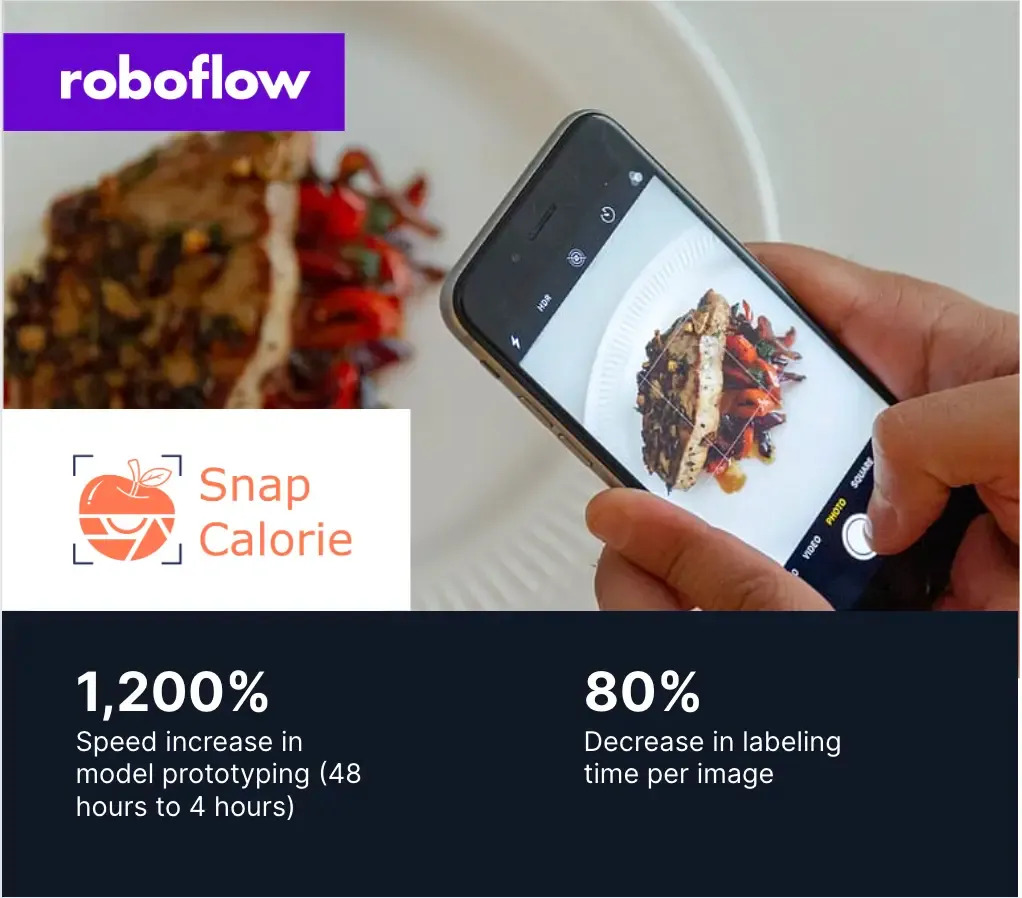 Fast and Scalable Software for Annotation and Labeling
SnapCalorie selected Roboflow for dataset management, labeling, annotation, managing label-only users from outside their organization, and training computer vision models for model-assisted labeling. The depth of Roboflow Annotate's functionality is what the computer vision experts needed to manage the pipeline of uploading, searching, assigning, reviewing, and approving annotations.
AI-assisted labeling using pre-trained models and fast labeling workflows like keyboard shortcuts, intelligent defaults, and integrated label creation helped the team to annotate their large scale dataset quickly and accurately. Secure role-based access keeps the team's data safe while adding labeling capacity from outside of their organization and project management is made easy with progress views, labeling instructions, and notifications for external labeling users. With Roboflow, the team is able to quickly add new data to train and improve their model as their dataset expands.
"Roboflow's data management tools far surpassed any of the other tools we evaluated in the computer vision space. The team has been responsive to our needs and I'm continuously impressed with their pace of innovation." Wade Norris, Co-founder/CEO, SnapCalorie
When visionaries and experts like the SnapCalorie team choose Roboflow, to help their users make informed, healthy choices with their eating habits, it strengthens our drive to put computer vision into the hands of every developer and every application. Computer vision can be used to transform the way people live and Roboflow enables users to easily take advantage of this technology.
Join The SnapCalorie Community
SnapCalorie has shown that on average their algorithm achieves twice the accuracy of users logging portion size visually.
SnapCalorie is currently selecting new enthusiastic beta testers for an exclusive first look. Join the waitlist and help shape the future of diet tracking.